February 19, 2018
Original Article
https://governor.hawaii.gov/featured/governor-proclaims-2018-year-of-the-hawaiian/
HONOLULU – Gov. David Ige on Friday (Feb 16) proclaimed 2018 as the Year of the Hawaiian with a proclamation signing ceremony at Washington Place.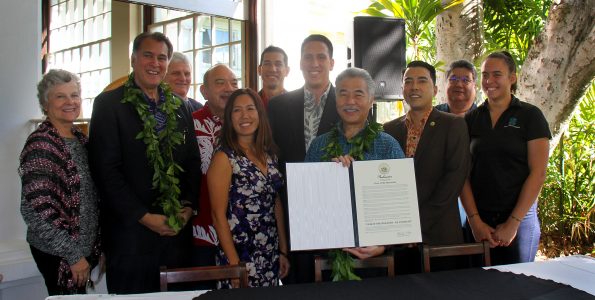 The Hawai'i State Senate passed Resolution 74 during the 2017 legislative session, requesting that 2018 be designated as the "Year of the Hawaiian." The Office of Hawaiian Affairs has agreed to assist in bringing the Hawaiian community together this year, for various cultural and educational events.
"And there is much to celebrate. 2018 marks the 40th anniversary of the creation of the Hawaiian Language immersion programs that have brought the Hawaiian language back from the brink of extinction. Hawaiian language is now thriving, spoken by more than 20,000 people," said Gov. David Ige.
This year also marks the 25th anniversary of the formal apology from Congress and the President of the United States to the Hawaiian people, for America's role in the overthrow of the Hawaiian Kingdom on January 17, 1893.
It is also the 40th anniversary of the creation of the Office of Hawaiian Affairs by the 1978 Constitutional Convention, and the 100th anniversary of the first Hawaiian Civic Club by Prince Jonah Kuhio Kalaniana'ole – an association and movement which continues to this day.
"It is important to me to continue to remind Hawai'i and kānaka of our collective movements, successes and goals we have yet to achieve. Our stories may have impacts across the globe, but holds the most meaning nowhere else in the world but here in Hawai'i," said Sen. Brickwood Galuteria.
"The ingenuity, knowhow and brilliance of the Kānaka Hawai'i has a legacy of creating great change, not just in Hawai'i, but around the world. Designating 2018 as the Year of the Hawaiian is a good opportunity for the state to continue to recognize this and remind ourselves of our commitments to the Hawaiian community," said Sen. Kaiali'i Kahele.
Former Gov. John Waihee, First Lady Dawn Amano-Ige, OHA Chair Colette Machado and Hawaiian language students also took part in the signing ceremony and festivities.
Do you like this post?